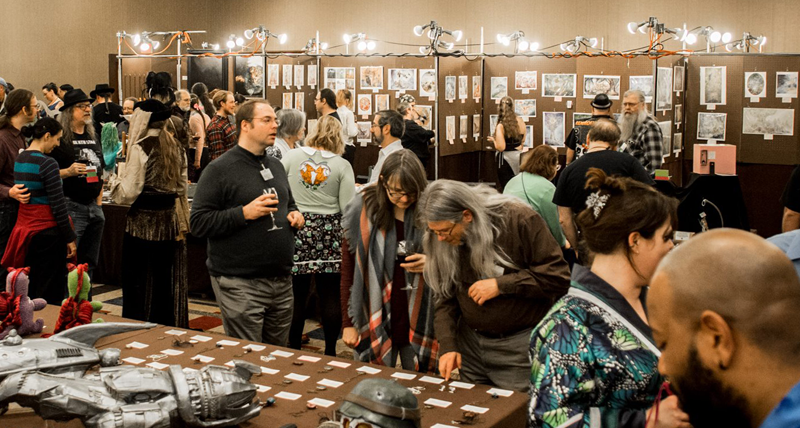 Photo by Cat Trzaskowski
The 2019 Arisia Art Show had 964 for-sale and 59 not-for-sale originals, and 2107 copies of 438 prints, on 124 panels and 15.5 tables. Of these, we sold 230 originals and 631 copies of 261 prints to 403 different buyers for a total of $28,923 plus tax. Out of 70 artists, 58 sold work.
Sales per panel ranged from $0 to $850 with a median of $168 and an average of $207.33. Original sold piece prices ranged from $10 to $775 with a median of $35 and an average of $70.17. Print sold piece prices ranged from $3 to $100 with a median of $15 and an average of $19.64. Artist checks were mailed on February 11.
Located in the Georgian room, Arisia's art show featured work by 70 artists including our Artist Guest of Honor hung salon style on 500 linear feet of portable wall space. Subject matter included science fiction, fantasy, space, and other speculative subjects, in a wide variety of media. Most work was for sale, and prints were available of many works.
We gave the following awards:
Artist Guest of Honor Award:

Frog Queen's Revenge by Kristina Carroll

Fan Guest of Honor Awards:

Ollie the Aquatic Librarian by Wendy Ellertson
Pitcher Plant Lamp by Scott Lefton
Honorable Mention for Best Captions: Julia Burns Liberman

Art Show Co-Directors Awards:

Arbour Autem Oculus by Joe A. Souza III
On the Virtues of Beasts of the Realms of Imagination (series) by Anne Nydam

Art Show Staff Award:

Carried Away by Elizabeth Leggett

Convention Chair Award:

Golden Light Pouring Forth by Lois Blood Bennett

Popular Choice 2D:

The Queen's Guard by Elizabeth Leggett

Popular Choice 3D:

Puff Pods (series) by Talia Lefton

Best In Show:

Ollie the Aquatic Librarian by Wendy Ellertson
More information about the Art Show, including sales statistics, are available on last year's website.